How to explain the value of SHRM certification to an employer
By Ashley Silver, SHRM-CP, and Mark Smith, Ph.D.July 16, 2020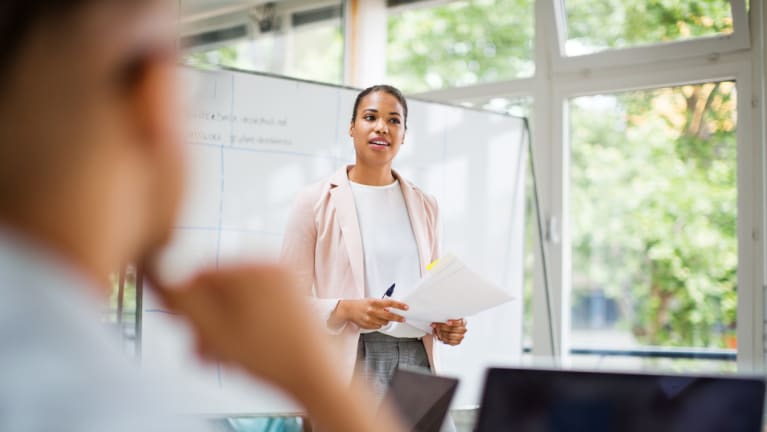 Considering the value of SHRM certification, it's common to focus on how it benefits HR professionals, including:
Enhancing their confidence.
Increasing recognition from colleagues.
Helping them stand out in a job search.
Demonstrating their long-term commitment to the HR profession.
Protecting their organizations from risk by ensuring regulatory compliance.

HR professionals aren't the only beneficiaries of SHRM certification—SHRM research shows that the HR department and the entire organization gain tangible and valuable advantages as well. An effective HR professional can highlight these benefits in a business case to explain the value of SHRM certification.

The "look" or circumstances of this business case can vary greatly. Some HR professionals will want to make a formal submission or presentation to get their employer's financial buy-in, demonstrating how SHRM certification will enable them to support the organization's strategic goals. Others will share the information during an end-of-year conversation with their supervisor while advocating for a salary increase. The case for certification can even take the form of an on-the-spot answer to a job interview question with a potential employer, describing how a SHRM credential sets one apart as a candidate.

What does earning a SHRM certification tell others about you as an HR professional and as a member of your HR team?

You are committed to the HR profession. Earning SHRM certification is an outward reflection of your commitment to the world of HR. It requires an investment of time, money and effort. Significantly more SHRM-certified HR professionals report having "high commitment" to the field of HR compared to their noncertified counterparts, according to SHRM research.

You are knowledgeable in HR. SHRM's certification exams are based on the SHRM Body of Competency and Knowledge (SHRM BoCK), a summation of the most significant behavioral competencies and knowledge areas for HR professionals around the world. SHRM regularly conducts research to validate this information for HR professionals and partners. Hundreds of certified HR subject matter experts participate in the development and review of exam questions. The exam is challenging, so passing it proves that you have strong knowledge and judgment skills in HR.

Your skills are well-rounded. The SHRM certification exams cover the eight behavioral competencies and 15 functional knowledge areas described in the SHRM BoCK. But SHRM certification is about more than book smarts: To qualify to take the SHRM-CP or SHRM-SCP exam, you must have real-world HR experience too. Being well-versed in many different aspects of HR means that SHRM-certified HR professionals have the flexibility to be strong performers, even in areas where their experience may be limited. Knowledge plus experience combine to prove that you are a skilled and well-rounded HR professional.

You are prepared for business challenges. Just as a certified public accountant (CPA) is trusted to thoroughly understand taxes and accounting, and a project management professional (PMP) is trusted to know how to successfully lead projects and people, the same trust comes with a SHRM-CP or SHRM-SCP credential. According to SHRM research, SHRM-certified professionals receive higher levels of respect from their colleagues and peers than HR staff who are not certified, and more SHRM credential-holders report that they are highly prepared for business situations.

You are continuously learning. SHRM-CPs and SHRM-SCPs participate in various types of professional development activities to keep their knowledge and skills current and relevant. To maintain the credential, SHRM-certified professionals must earn at least 60 professional development credits every three years—so the learning never stops. You can earn credits by attending conferences, taking courses, reading books, writing articles and blog posts, participating in panel discussions, and much more.

Simply describe these benefits of SHRM certification to the HR department and the entire organization, and an employer is bound to support and value your certification journey.

Ashley Silver, SHRM-CP, is a test development specialist at SHRM. Mark Smith, Ph.D., is SHRM's director of exam development for certification.